Well what an interesting launch this proved to be. We had some ups, we had some downs, but in the end, it was pretty great.
We launched from just east of Mantorville, MN, my hometown growing up. Attendees were Rick Erickson (Dad), Cindy Erickson (Mom) and my (Jamey) old 7th grade science teacher Mr Bruce Kinlund. Was great to have Bruce out there, because A) I hadn't seen him in easily 12 years and B) having been such a science geek in his classes way back in the day, it was fun to share a little experiment of my own with him outside the old classroom setting.
Our goal was to launch right around 7:30pm with a planned max altitude around 9:00pm, giving us the opportunity to snag some shots of the moon coming up over the horizon after some amazing shots of the sun going down on the other horizon. We kinda got what we wanted, but for a second launch in a row, we had problems with moisture inside the cooler and the windows fogging. We think we're over-thinking the problem and actually need to get less air tight so we're not trapping the more humid air inside, so although we have a handful of great shots, we didn't get some of the best shots we could've because of the icing on the windows, BUT now we have two cases where we were trying to up the air-tightness and the conditions worsened, so we now know our solution.
The launch itself was successful. Right on time at 7:30, no real winds on the ground, no problems filling the balloon, plenty of lift, etc. It headed straight south for the first little bit, snapping some shots of my old stomping grounds around Mantorville, Kasson, Byron and Rochester, MN, before hitting the jet stream and rocketing around 85ph eastward past Rochester and over towards St. Charles, MN. We chased it all the way over to St. Charles before, as we should have expected, it started to come back. It continued to rise steadily until precisely 116,000ft up. It was right up over my Grandparents' place southeast of Rochester when we realized the climb had pretty much stopped and it was hovering… much like the lost BESPIN-I on June 25th. There was some cursing, some frustration, but we continued to follow for over an hour as it raced at around 45mph back west towards South Dakota. "Here we go again," we thought. When we got to the town of Hayfield, MN, at approximately 10:00 on the nose, we were about 20 minutes from our original launch location and made a deal with ourselves. We'd sit in the parking lot of the gas station until 10:30 and see what happened, if nothing changed, we'd just head home and look for the SPOT tracker in the morning, as we know that'd pull a signal for at least 48 hours or so. Just as we were giving up hope, at 10:28 we saw two drastic drops in altitude back to back. The balloon had finally burst and it was coming back down. We raced westward, of course only to have to backtrack to almost the exact location we'd just been sitting, and are pretty sure we saw it's flashing lights from about a half-mile away as it was coming down right over a bean field. Bean fields, for those of you who don't know, are typically only about knee high and naturally make these sorts of things pretty easy to locate. We then got ourselves as close as we could via gravel minimum maintenance county roads, and waited for the SPOT to send its final location. After about 20 minutes of nothing, we figured, "Hell, we'll see it flashing or hear the beeper once we get out in the bean field here." After about a half hour or so of walking, in the din of grasshoppers and frogs, we could not only hear nothing, but we still hadn't seen a flash or a location update from the SPOT. We continued forward, thinking we just hadn't gone far enough yet, when suddenly we got a SPOT location. We were about half way there, so we picked up the pace. 15 minutes later, still no sounds or obvious flashing lights. We panned the crop-tops with our flashlights, looking for the parachute or SOME sign of a crash down in the field. We saw a car coming on the next county road down, so we shut down the flashlights as to not draw the attention of local law enforcement or farmers with shotguns, and then suddenly like a gift from above (see what I did there), we saw a very faint flashing about 40 yards southeast of us. We bolted over there and found our payload. It was all there and in brilliant condition, except the beeper battery had somehow died (note to self, change beeper battery after EVERY flight) and one of the flashing bike lights had also died. NO WONDER WE COULDN'T HEAR/SEE IT!
After all was said and done, our max altitude for the evening was 116,812ft up (or 22.12 miles), it was about 11:45pm when we finally found it and we were back at home by 12:30am. We got some good stuff, learned a few more lessons and of course, want to share it all with you.
First, the flight path via APRS (click the image for the actual Google Map)
You can snag the Google Earth KMZ file here, showing not only the path but the altitude as well: http://bespin.sevnthsin.com/wp-content/uploads/2011/flightData/BESPIN_II_20110819.zip
Then we've got some edited video from the flight. Launch, couple sunset views, a pass of the moon (somewhat out of focus, sadly), then the bean field landing.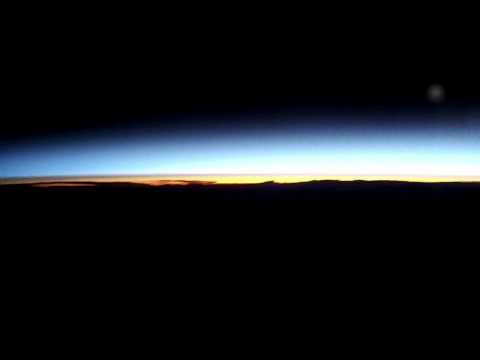 And lastly, some great pics (note some of them are through some ice, but hey, they still look cool).
Sadly we didn't get the quality shots of the moon we'd hoped to get, but we have another plan for that coming up on our next launch. So enjoy and stay tuned for the next launch, happening in September.