The tale of the BEAKER-I has been a wild one. Many of you followed us in real time via Twitter or Facebook, but this is a recap for those of you who had actual things to do on Wednesday and Thursday, May 30/31st of 2012.
The mission: To launch, via weather balloon, a classroom "Beaker" the Muppet with a class of 100 3rd graders from Park Ride, IL.
We chose a location south of the school, because A) the school is right by O'Hare and B) we wanted to reduce our chances of landing in Lake Michigan. We went as far south as possible, as we had to take into consideration the fact that the students would have to also travel a distance by bus. So we settled on the Lake Whalon Forest Reserve area in Naperville, IL. Beautiful lakeside park, perfect for launching a balloon.
The day was a bit windy, my trusty coordinator/sidekick Dave Lawrence and I struggled with the balloon a bit, but it was manageable.
Just as we wrapped filling the balloon, the class arrived and we had a lovely little welcome ceremony, music provided from Dave's eclectic collection of 70′s galactic funk & sci-fi TV themes. We spent some time showing them what would go into the payload and talked about how and why beaker would get so high in the air. We also talked about how we were using GPS & the internet to track the little guy all through his flight.
Then the BEAKER-I was readied for flight. We turned on the electronics and formed a double wide line of all the kids so every single one of them could let go of the "launch rope." (A simple little string I tied at one end to our boom box, ran through a key ring on the payload and then had the kids hold on their end, so when released, the string would just slip through the key ring as the balloon rose until it was completely free)
Then came time for the countdown & liftoff. We waited for the wind to die down and began the countdown sequence from 5. When we hit 1 all the children jumped back to release the rope and the BEAKER-I magically floated away.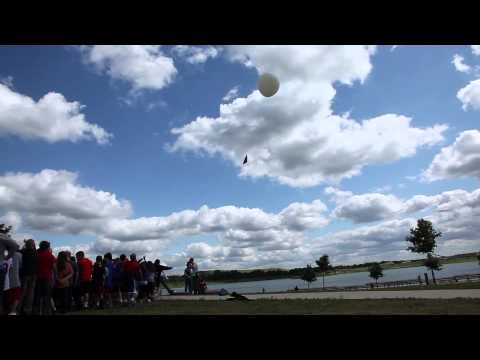 We tracked the balloon across the sky as it sailed towards Indiana. It was following its predicted path perfectly and was rising at a rate we expected.
Then the balloon burst about 15,000 feet sooner than expected and it began its descent. We immediately became nervous it would land in the lake, and after about 45 minutes of watching and hoping for the best, that's unfortunately exactly where it landed. Naturally, the payload took on water and our communication equipment stopped communicating immediately on impact. We waited for it to pick up again, but sadly it did not. We were now on a rescue mission.
We scrambled, we borrowed a kayak from our friend Katie Luby, (because we had no idea how far out it really was) and we began calling local boat captains. We managed to make a lead with a fine man named Mike Hampel of "Friendly Gesture Charters" and while he was unavailable, he had a friend, Captain Steve Kreighbaum, who was already out there and he offered to go search for a bit with his crew. We headed to Michigan City, IN to meet up with them in the event they found anything. Additionally, Mike called the local media and we were met by Julie McClure from the Michigan City News Dispatch and she collected our tale in hopes of using their paper as a means to inform the community to keep their eyes peeled. We made the printed and online versions of the paper… it was spectacular!
After realizing we stood no chance in that giant lake with no communications, we resigned to the fact we'd have to walk the beach in the AM. Captain Steve gave us a prediction based on his GPS plotter, which was tremendously helpful in narrowing what would've been a 40 mile stretch of beach to search, into a 10-11 mile area.
Thursday morning brought cloudy, rainy, windy weather and our search across the beach was set to be a wet & muddy one. In one last desperate attempt when I awoke for the morning, I checked the SPOT tracker location to see if a miracle had struck. Low and behold, a miracle HAD struck and we'd started beaconing again. The cooler was afloat and tracking southwestward/westward across the lake.
We immediately contacted Captain Mike, who unfortunately was unavailable again, however, his good friend Captain Rich Pegau WAS available and ready to go. We met him and his crew mate Mike Gray at the Berns Harbor and we set sail. The beacon, while tracking all morning, had naturally gone silent over the course of the last hour, so we went to the last known location and traced a direction it had appeared to be headed. After about 15 minutes and some thought as to how long we should keep these guys out here before we let them get back about their day, Dave suddenly spotted the orange BEAKER-I floating about 200 yards out from the boat.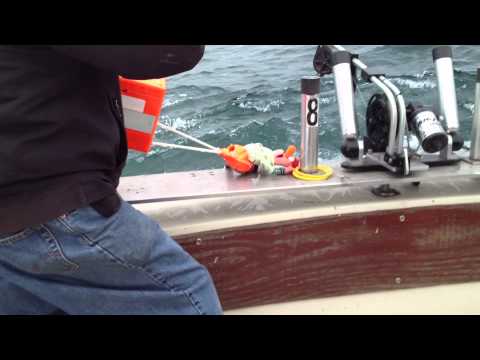 With a giant sigh of relief, we had found the BEAKER-I and headed back to shore. We thanked the gentlemen for their effort, took a few shots for the record, and we made our way back to the city to get a burger and ensure we hadn't lost the photos/videos.
When we got back, we were elated to discover all the photos/videos had in fact been saved and we prepared to share them with the kids the following morning at a "Welcome Home Beaker" ceremony at the school.
So, without further adieu, I present the photos/videos from the flight of the BEAKER-1 on May 30th, 2012 from Whalon Lake, IL, landing 6 miles off the coast of Michigan City, IN in Lake Michigan.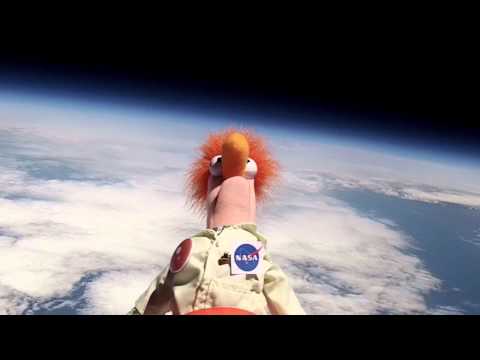 After presenting the BEAKER-I back to the class of 100 students at Washington Elementary school, we were both presented with "Badges of Success" and I was even given a book full of hand-written thank you notes from the students (each note also included a drawing of the event… absolutely adorable).
And last, but not least, the News Dispatch ran a follow up on Friday sharing our success! Once again, we made the cover!
And last, last last, a real lovely video put together by Dave that we shared with the students at our "Welcome Home Beaker" ceremony. The kids lots their minds when they saw this.